Conference and Exhibition: The New Gotthard Base Tunnel
The New Gotthard Base Tunnel – the longest railway tunnel in the world and its contribution to European rail infrastructure
Where: National Technical Library, Prague
When: March 21, 2013 - Conference, March 21 - April 4, 2013 - Exhibition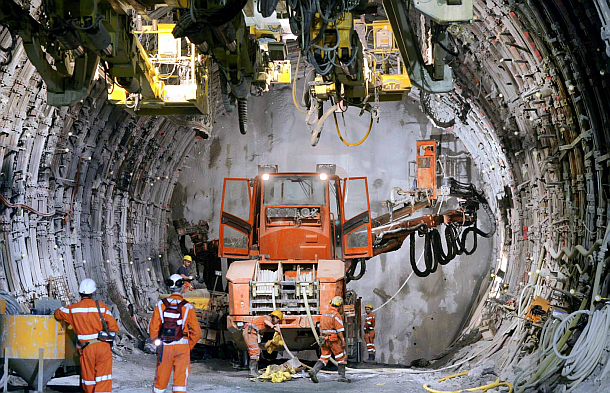 The new traffic route through the Swiss Alps is being built under the Gotthard. The new rail link runs from Altdorf to Lugano. It offers goods traffic a real alternative to the road. Passenger traffic benefits from improved connections and shorter journey times.
Switzerland is pursuing an environmentally compatible, efficient and financeable transport policy. It includes modernization of the railway infrastructure and integration into the European high-speed network. Wherever possible, goods are to be transported by train. Transferring goods traffic from road to rail protects the sensitive Alpine region from the environmental burden of increasing traffic.
Construction of the New Rail Link through the Alps (NRLA) is creating a fast and efficient railway link. At its heart are the two base tunnels under the Gotthard and Ceneri. The Gotthard Base Tunnel, the world's longest railway tunnel, is scheduled to become operational at the end of 2016, the Ceneri Base Tunnel at the end of 2019.
---
News
9.4.2013
Photos from the conference has been published. Look in the photogallery section.
8.4.2013
Conference presentations in pdf form are in the download section.
20.3.2013
Final programme has been published. Registration has been closed.
11.3.2013
Conference programme has been updated.
4.2.2013
Registration process has started.
1.2.2013
Conference programme has been published.
30.1.2013
Web of conference and exhibition was launched.
---
Conference Programme
Moderated by doc. Petr Bouchner, head of Department of Vehicle Technology, CTU in Prague, Faculty of Transportation Sciences
13:00 – 13:30
Registration of participants
13:30 – 13:50
Welcome at conference
André Regli, Ambassador of Switzerland
Prof. Miroslav Svítek, Dean of the Faculty of Transportation Sciences, CTU in Prague
13:50 – 14:35
The world's longest railway tunnel: central element of a sustainable transport policy
Renzo Simoni, CEO, Alptransit AG
14:35 – 14:45
Presentation of NEAT film / video
14:45 – 15:15
Coffee break
15:15 – 15:30
Aspects of Sustainable Transport
Petr J. Kalaš, Czech-Swiss environmental expert
15:30 – 15:45
Sika solutions for Gotthard Tunnel - the structure of the century
Milan Jašek, Key Project Manager of the Swiss company SIKA CZ s.r.o.
15:45 – 16:15
Czech railway tunnels – history and presence
Libor Mařík, Head of the Department of geotechnics and underground structures, IKP Consulting Engineers, s.r.o.
16:15 – 16:45
Rail transport projects in the Czech Republic
Luděk Sosna, Director of Strategy Department, Ministry of Transport of the Czech Republic
16:45 – 17:30
Panel discussion: Construction of tunnels - the importance and effectiveness for sustainable transport
The panel discussion will be moderated by prof. Petr Moos, vice-rector of CTU in Prague. All speakers have promised their participation here.
17:30 – 18:30
Official opening of NEAT exhibition
Opening address by Martin Svoboda, Director of the National Library, and André Regli, Ambassador of Switzerland.
Programme will continue with a musical performance of Alphorn Blowers from St. Moritz, followed by Swiss wine and cheese.
Programme can be changed without notice!
The conference language will be Czech and English. Simultaneous interpretation will be provided.
---
Venue
National Technical Library
Technická 6 / 2710
160 80 Praha 6 - Dejvice
www.techlib.cz
How to get to the NTL
You will find the NTL between Thákurova, Studentská and Technická streets and Fleming square. If you are using Prague public transport, it would be best to travel by underground to the Dejvice station (the A line) and from there it is a several minute walk to the NTL – see the map above.
---